Roads without garbage by their side, shade from trees for passersby,
vehicles noiselessly plying on the roads are all unfathomable in Bengaluru.  However, this is a common sight for those working in Bengaluru's Electronics City. This town is a model for the rest of Bengaluru for cleanliness. The garbage collectors who pick garbage from the roadsides
are the heroes of Electronics City. They collect an approximate of one and a half tonnes of litter
everyday.
These garbage collectors work in a batch of 120 to 150. They start at 6 in the morning until 5:30
in the evening. Leaves fall from trees mostly during the autumn season. Electronics City
operates a waste segregation unit that suits the whole of Bengaluru. The way this unit run by
Electronics City Industrial Township Authority (ELCITA) recycles waste is astounding.
It is not an easy task to recycle one and a half tonnes of waste everyday. By reusing it as
compost, ELCITA has shown the way to eliminate chemical fertilizers. There is a team of seven
to eight people segregating waste based on their reusability. Next, they cut the litter to small
pieces using a shredder. Finally, they turn the reusable cut litter into compost.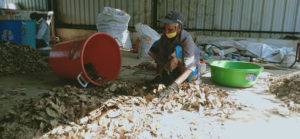 This unit can create about 2 to 3 tonnes of compost manure every two months. The private
companies in Electronics city, the employees and farmers nearby buy this compost that sells for
₹10 per kilogram to ₹15 per kilogram. Unit supervisor Manjunath says that there is a demand for
this fertilizer because of its good quality.
The fertilizer is not only for sale, but also used at the nursery run by ELCITA. The organization
has launched a program to distribute 10,000 trees to employees and the public during the World
Environment Day this year for which this recycle unit is preparing for.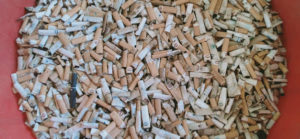 Reusing cigarette butts: ELCITA, the organization that is committed to reuse litter collected in
and around Electronics City, also collects cigarette butts commonly found on the side of the
streets to give it to ornament makers. This is an example of the fact that anything that is not in
its original form is still worth something.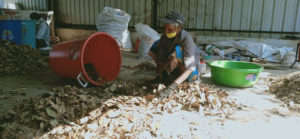 The reusability of the litter is measured using the 'I Got Garbage' software used in smart cities.
CEO of ELCITA, N.S. Rama said that, with this software, ELCITA will educate companies about
the control of waste production. This system can be implemented in other parts of Bengaluru
and every area of this city must segregate waste in small and large levels, she said.
If everyone segregates wet and dry waste at the source, we can recycle and reuse waste
opined Rama. She also feels that if everyone encourages the use of compost and if everyone
turn their garbage into compost, then we can eliminate the task of transporting waste. If waste disposal system is changed for street for residential areas, waste management will never be a problem.
Roopal Shetty
Editors Note : Disposing of perishable waste product creates odour nuisance. User inconvenience caused by advanced discharge method needs a lot of maintenance value than the present system.
With the case of urban waste assortment, the upper range of disposal journey ought to be integrated. the employment of multiple disposal locations will improve assortment efficiency.   Smart waste management is a key factor for Smart Cities. The improvement of the urban waste collection service and, in general, the achievement of a more efficient management of the waste, is one of the main challenges that the cities face, especially due to the population growth.